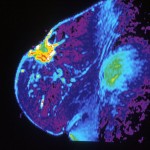 Magnetic resonance imaging (MRI) scans may predict a woman's future risk of developing breast cancer, found a new study published Tuesday in Radiology.
Researchers reviewed screening breast MR images from high-risk women 18 years or older with no history of breast cancer and specifically looked for associations between cancer risk and imaging features, including breast density and background parenchymal enhancement (BPE). In MR images, BPE occurs when areas of normal background breast tissue appear white or enhanced. Previous research has suggested a possible link between BPE and cancer risk.
In the study, women who displayed elevated amounts of BPE were nine times more likely to have a breast cancer diagnosis, compared to those with little to no BPE.