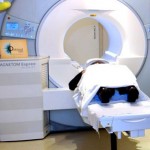 A new medical imaging technique can help doctors better detect non-alcoholic fatty liver disease in children, new research suggests.
Five million to 8 million children in the United States have the condition, but most cases go undiagnosed, according to the University of California, San Diego researchers. Children with the disease have large droplets of fat in at least 5 percent of their liver cells.
Obesity and diabetes are risk factors for non-alcoholic fatty liver disease, which can lead to hepatitis, liver scarring, cirrhosis and liver cancer.
"Currently, diagnosis of [non-alcoholic fatty liver disease] requires a liver biopsy, which is not always available or performed. This leads to both misdiagnosis and missed diagnoses, hampering patient care and progress in clinical research," study first author Dr. Jeffrey Schwimmer said in a university news release. Schwimmer is a professor of clinical pediatrics at UCSD and director of the Fatty Liver Clinic at Rady Children's Hospital-San Diego.
"Thus, a noninvasive method for diagnosing and/or evaluating [the disease] has the potential to impact millions of children," he added.
The researchers tested a new imaging method called magnitude-based MRI that might make it easier to diagnose the condition in children.
The new MRI technique was assessed in 174 children who were having liver biopsies. Depending on how it is used, magnitude-based MRI could correctly identify 65 percent to 90 percent of children as having or not having fatty liver disease, the researchers said.
However, further refinements are needed before this or any other MRI technique can be used to diagnose non-alcoholic fatty liver disease in children, Schwimmer said in the news release.
One expert agreed that more study is needed.
"It's very interesting to see that researchers have devised an MRI imaging technique to better detect non-alcoholic fatty liver disease in children, which is a growing problem in the United States as the number of obese children steadily increases," said Dr. David Bernstein, chief of the division of hepatology at North Shore University Hospital in Manhasset, N.Y.
But the current effectiveness of the technique "is simply too low to consider MRI a worthy replacement for liver biopsy, the gold standard detection method," Bernstein noted.
Plus, the MRI cannot detect the levels of inflammation or scarring that the buildup of fat can cause in the liver, Bernstein said.
The study was published Feb. 5 in the journal Hepatology.
More information
The American Liver Foundation has more about non-alcoholic fatty liver disease.