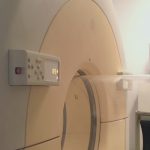 A new type of MRI scan can predict the risk of having a stroke, researchers have said in a study.
The non-invasive technique, developed by scientists at the University of Oxford, predicts whether plaques in the carotid arteries are rich in cholesterol and therefore more likely to cause a stroke.
Carotid arteries supply the brain with blood. The rupture of fatty plaques can block them and possibly starve the brain of oxygen, causing potentially debilitating and life-threatening strokes.