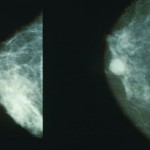 An MRI screening protocol for breast cancer that takes just 3 minutes is as good as a regular MRI that takes 21 minutes, and more accurate than digital mammography, according to a proof-of-concept study published in the August 1 issue of the Journal of Clinical Oncology.
The accelerated MRI was as good as regular MRI for detecting 11 invasive breast cancers that had escaped detection on regular mammography, report Christiane A. Kuhl, MD, and colleagues from the University Hospital of Aachen in Bonn, Germany.
"MRI is the technique of the future [for screening]. Ionizing radiation is not involved. Compared with digital mammography, it is highly sensitive, and overdiagnosis is less of a problem, contrary to current notions," Dr. Kuhl told Medscape Medical News.