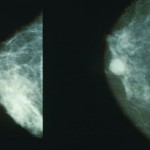 An MRI screening protocol for breast cancer that takes just 3 minutes is as good as a regular MRI that takes 21 minutes, and more accurate than digital mammography, according to a proof-of-concept study published in the August 1 issue of the Journal of Clinical Oncology.
The accelerated MRI was as good as regular MRI for detecting 11 invasive breast cancers that had escaped detection on regular mammography, report Christiane A. Kuhl, MD, and colleagues from the University Hospital of Aachen in Bonn, Germany.
"MRI is the technique of the future [for screening]. Ionizing radiation is not involved. Compared with digital mammography, it is highly sensitive, and overdiagnosis is less of a problem, contrary to current notions," Dr. Kuhl told Medscape Medical News.
Dr. Kuhl's team "stripped down MRI to the essential part that makes for fast acquisition," she explained. For the 3-minute protocol, the radiologist reads the first postcontrast subtracted (FAST) and maximum-intensity projection images; for the full diagnostic protocol, all the images are read.
The screening accuracy of the accelerated MRI is similar to that of a full diagnostic MRI, she added.
"A Huge Step Forward"
The accelerated protocol "is a huge step forward in breast cancer screening," writes Elizabeth A. Morris, MD, chief of breast imaging services at the Memorial Sloan Kettering Cancer Center in New York City, in an accompanying editorial. "Data clearly demonstrate that FAST breast MRI could be the standard for breast cancer screening: it is safe, does not induce cancers, and can find more cancers than mammography," she explains.
"Although this protocol is likely not appropriate for diagnostic studies, by doing this in the screening setting [the team] achieved a high detection rate without a high false-positive rate, the hallmarks of a quality screening test," Dr. Morris writes. The negative predictive value was 99.8%.
The Accelerated Protocol
Dr. Kuhl, a radiologist with 20 years of experience, was struck by the fact that early images were best for detection purposes. "The early phase after injection of the contrast agent is best suited to visualize enhancements; other images are used to characterize enhancing structures. That's why the accelerated protocol is appropriate for screening and not diagnostic purposes," she noted.
The study consisted of 443 asymptomatic women at mild to moderate risk for breast cancer. They had all undergone digital mammography, and the women with dense or extremely dense breasts had also undergone ultrasound screening, all with negative results.
The women then underwent MRI screening, which identified 11 breast cancers — 7 invasive cancers and 4 ductal carcinoma in situ. The identification of these 11 cancers provided an additional cancer yield of 18.3 per 1000.
Are We Ready to Incorporate MRI Into Breast Cancer Screening?
"This is an extremely important study that reported a significant yield from FAST MRI screening even after mammography and ultrasound," said Wendie A. Berg, MD, PhD, professor of radiology at the Magee-Women's Hospital of UPMC at the University of Pittsburgh School of Medicine.
Dr. Berg was involved in the ACRIN 6666 trial (JAMA. 2012;307:1394-1404), which also showed that MRI detected breast cancer that was not picked up on mammography. "We showed, in ACRIN 6666, that MRI detected another 15 cancers per 1000, even after mammography and ultrasound. Dr. Kuhl's study showed a similar yield for MRI, even in low-risk women and across all breast densities," she told Medscape Medical News.
However, it is important to reproduce these results at other centers with other experienced readers, Dr. Berg said.
Dr. Morris agreed, noting that "we do not want a lot of false positives." FAST MRI has a sensitivity of 94.4%, compared with the full diagnostic protocol, she reported, and fewer false positives (33 vs 35).
"FAST MRI will be reader-dependent. With a less-experienced reader, there will be a higher call back rate," Dr. Morris said.
Reader expertise provides quality assurance, Dr. Kuhl told Medscape Medical News. With a very short acquisition time, a very short reader time (less than 30 seconds), and an expert reader, it works well and is ready to be used as a screening tool, she said.
What's Holding Us Back?
Is the accelerated MRI protocol ready for clinical practice?
The radiologists interviewed by Medscape Medical News are impressed, and all indicated that MRI is better than the other methods of breast screening. However, they all agree that the results obtained in this study must first be replicated.
On the basis of data disseminated at meetings, some cancer centers in the United States are already offering accelerated MRI for breast cancer screening, Dr. Berg told Medscape Medical News. She noted that both the University of Pittsburgh-UPMC and New York University are looking at existing cases, reprocessing the initial images, and comparing accelerated MRI results with those of the full diagnostic protocol.
"What's needed is a clinical trial," said Dr. Morris.
In fact, the ECOG-ACRIN accelerated MRI trial — designed by Dr. Kuhl, Christopher Comstock, MD, from Memorial Sloan Kettering Cancer Center, and Gillian Newstead, MD, from the University of Chicago — is awaiting funding.
Dr. Morris noted that "compared with existing screening tests, MRI is less patient-friendly and requires intravenous contrast injection." What might help is MRI scanners dedicated to the breast, she said.
Cost is another issue holding MRI screening back from use in the general population. Currently, MRI is indicated for women with dense breasts and those at high risk for breast cancer; even then it is ordered after mammography. With a view to making MRI screening readily available, some centers in the United States are currently offering FAST MRI for $350, Dr. Berg noted.
The accelerated protocol might bring the costs down because it means less time on the scanner, so more women can be screened over the same period of time