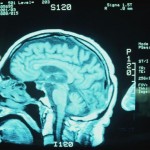 Damage to the brain's white matter may be an early sign of certain types of Alzheimer's disease, according to a new study.
Researchers used a specialized MRI technique called diffusion tensor imaging (DTI) to assess white matter in 53 people with three different types of Alzheimer's. Some patients had atypical forms of the disorder that affect localized parts of the brain (called focal AD syndromes). These atypical forms may cause vision and language problems.
Other patients in the study had early onset Alzheimer's, which affects several areas of the brain and interferes with thinking skills such as reasoning, planning and problem solving. This is different than late-onset Alzheimer's, which develops after age 65 and is marked by progressive memory loss.
All of the patients had extensive white matter damage, along with regional gray matter damage, according to the study published May 27 in the journal Radiology.
"Alzheimer's is a gray matter disease. However, white matter damage has a central role in how the disease strikes and progresses," study co-author Dr. Federica Agosta, from the Neuroimaging Research Unit at the San Raffaele Scientific Institute in Milan, Italy, said in a news release from the Radiological Society of North America.
"The white matter damage in patients with focal AD syndromes was much more severe and widespread than expected," she said. Changes in gray matter occurred in more limited areas, she added.
The findings support the theory that Alzheimer's disease may travel along white matter fibers from one area of the brain to another, according to Agosta.
"In early onset AD [Alzheimer's disease] and atypical AD forms, white matter degeneration may be an early marker that precedes gray matter atrophy," she said. That means that this specialized imaging technique might be able to identify people even before symptoms of Alzheimer's are apparent.
The results also highlight the importance of identifying people with early onset and focal Alzheimer's disease, the researchers said.
"Because there is not much structural damage in the early stages of focal Alzheimer's disease, there is a risk that patients may be misdiagnosed and excluded from clinical trials," Agosta said.
More information
The U.S. National Institute on Aging has more about Alzheimer's disease.