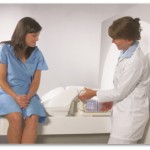 The percentage of women undergoing magnetic resonance imaging (MRI) exams of the breast has increased in recent years, but often, the women who could benefit the most from the procedure aren't the ones getting it, new research suggests.
Breast MRIs are recommended as a way to screen for breast cancer in women at high risk for the disease (those whose lifetime breast cancer risk is greater than 20 percent), in conjunction with yearly mammograms. MRIs are also used to diagnose breast cancer, but this is not recommended, particularly before a biopsy is performed.
A new study finds that the use of breast MRIs in the United States nearly tripled in recent years: from 42 exams per 10,000 women in 2005, to 115 exams per 10,000 women in 2009.
In a trend that the researchers called an improvement, the use of MRIs to diagnose breast cancer decreased. These MRIs accounted for 53 percent of breast MRIs in 2005, but only 35 percent in 2009.
Meanwhile, the use of MRIs to screen for breast cancer increased during the study period, from 18 percent to 34 percent.
Among women who were screened for breast cancer with an MRI, the percentage at high risk for breast cancer (who could gain the most benefit from the procedure) also increased, from 9 percent to 29 percent over the study period.
However, overall, less than 5 percent of women with a lifetime risk of breast cancer greater than 20 percent received a screening MRI, the study found.
And about half of women who did receive a screening MRI had a less than 15 percent chance of developing breast cancer in their lifetimes, meaning they were at average risk for the disease, and not recommended to have an MRI.
The findings suggest that more work is needed to ensure that breast MRIs are used appropriately, the researchers said.
Breast MRIs are good at detecting breast cancer, but have a high false-positive rate, meaning not all women with a positive result on a breast MRI will actually have the disease. Women with false-positive breast MRIs may undergo a number of additional tests that are not necessary, the researchers said.
Breast MRIs are also expensive, ranging from about $800 to more than $1,600, compared to $300 for a mammogram, according to Medicare and Medicaid data.
Some women in Wernli's study may have qualified for MRIs for other reasons, such as prior radiation to the chest, which the study was not able to take into account.
There is still a lot of research to be done to determine who benefits the most from breast MRI, Wernli said. For instance, there is no consensus about the use of breast MRI to follow women after they have been treated for breast cancer.