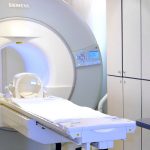 In 1983, Robert "Bob" Kagan, a 36-year-old pathologist, set out on foot from Holy Cross Hospital in Ft. Lauderdale, Florida, looking for a place to birth an industry. He'd find it in a McDonald's, which would become one of America's first outpatient MRI centers.
Kagan had become convinced of the promise of magnetic resonance imaging, a now-commonplace technology that was then still experimental. The Food and Drug Administration would not approve MRI until 1984, and Medicare wouldn't cover it until 1985. Holy Cross Hospital refused to spend the $1.2 million ($3 million in 2017 dollars) for an MRI machine. But other doctors at the hospital saw the potential, and 40 put up $25,000 each for Kagan's new business: an MRI machine that would sit outside the hospital walls.
"We didn't know what it would be used for, necessarily, at that time," says Kagan, now 71. "I said this is what I want to do. I just knew it would revolutionize medicine."
Like a toothpick on a tidal wave, Kagan's medical imaging center, which now brings in $5 million in revenue a year, can be used to chart the course of a breakthrough technology: from its adoption and widespread use to the subsequent backlash against it.
"It's one of those great examples of a huge increase in intensity, and that leads to higher spending," says economist Joseph Dieleman of the University of Washington, using the economics term for the healthcare trend in which new technology comes along that's more expensive or involves doing more than what it replaces. "Doctors get more information from MRI, and patients want the best care possible, so that can lead to more spending very quickly."
Though first approved in 1984, MRI was a niche business until the early 1990s, when its use skyrocketed. There were fewer than ten MRI scanners per million Americans in 1993, according to OECD data. That number had spiked to 27 by 2004, and it peaked at 39 in 2015. Nearly $50 billion is spent on almost 40 million MRI scans in a year in the U.S., the consulting firm Frost & Sullivan estimates, and selling the machines themselves is a giant global business worth $5 billion, led by General Electric's healthcare unit and Siemens Healthineers, a spin-off of the electronics conglomerate.
"It's just grown like crazy," says David Levin, a radiologist and a scholar of the history of MRI at Thomas Jefferson University Hospital in Philadelphia.